Research Data Centre for Higher Education Research and Science Studies (fdz.DZHW)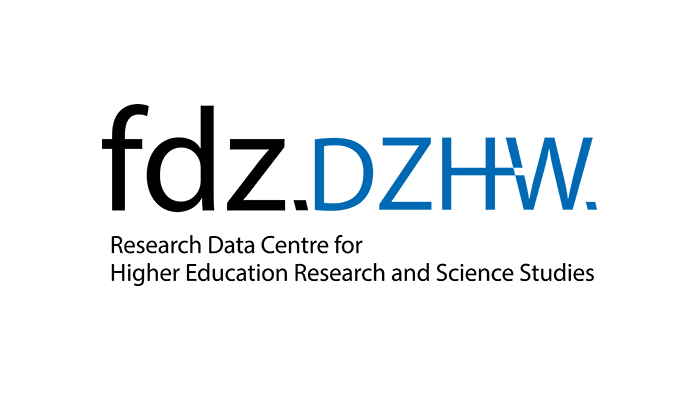 The Research Data Center for Higher Education Research and Science Studies (fdz.DZHW) at the German Centre for Higher Education Research and Science Studies (DZHW) in Hannover provides the scientific community with quantitative and qualitative research data from the field of higher education and science studies for research and teaching purposes.
About the Data Centre
The data pool of the Research Data Centre is based on two sources: Firstly, it contains the current surveys of the panels conducted in-house (DZHW Panel Study of School Leavers with a Higher Education Entrance Qualification, Social Survey, DZHW Graduate Panel, iFQ Science Survey), which are integrated by default. Secondly, the Research Data Centre constantly processes, documents and integrates inventory data of the DZHW and its prior organisations. External data from the research area is also integrated into the FDZ data pool.
Due to their long time series, the panel and longitudinal data (which are processed and published in a gradual manner) have a high analytical potential. They qualify for the analysis of research topics within the research area as well as related research areas like the school and labour market research.
The data are made available as Scientific Use Files (SUF) in different variants with different degrees of anonymisation and accordingly varying analytical potential. There are three modes of data access: download, remote desktop and on-site. Furthermore, strictly anonymised Campus Use Files (CUF) are provided as downloads for teaching purposes.
The Research Data Centre offers a search application for the data pool (https://metadata.fdz.dzhw.eu), which allows the inquiry of information for studies, surveys, instruments, questions, data sets, variables and publications. The system also shows univariate probability distributions, which provide a first impression of the data.
Available data
Person-related data: DZHW Panel Study of School Leavers with a Higher Education Entrance Qualification (cohort 2008), DZHW Graduate Panel (cohorts 2005, 2009), Social Survey (19th, 20th), Careers of PhD Holders (cohort 2014). (as of June 2017)
Contact
German Centre for Higher Education Research and Science Studies (DZHW)
Research Data Centre
Lange Laube 12
30159 Hannover
e-mail: dataservice@dzhw.eu
Phone: +49 511 450670-415
Additional Links