Research Data Center PIAAC at GESIS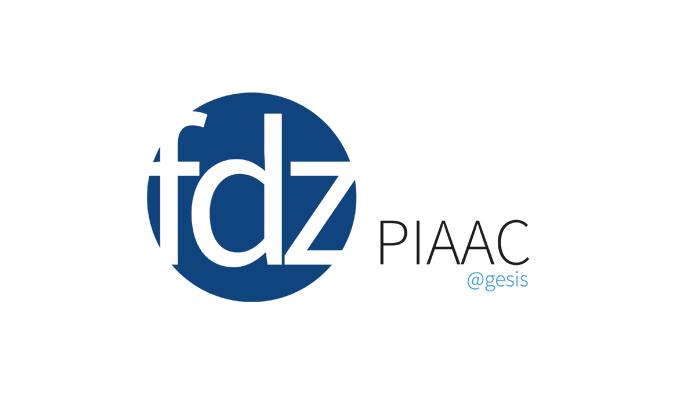 The Research Data Centre PIAAC makes German and international data of the Programme for the Assessment of Adult Competencies (PIAAC) accessible to the scientific community, and offers advice to interested users.
Status: Accredited
Data Offer: Social, Economy, Education, Psychology
About the Data Centre
PIAAC was initiated by the Organization for Economic Cooperation and Development (OECD) and was the first fully computer-based large scale assessment in education. PIAAC assess key skills such as literacy and numeracy in the adult population (ages 16 to 65) of more than 38 countries. In Germany, several national extensions of the PIAAC survey were carried out regarding the skills of people over 65 (CiLL), or the skills and job opportunities for low-skilled people, yielding additional data for older adults. In addition data from a longitudinal follow-up of the German 2011/2012 respondents was collected (PIAAC-L), and the log files of several countries are also available for analyses. During the assessment, user interactions were logged automatically and stored with time stamps in separate files called log files. The data for instance can be used to better understand test-taking behavior.
Available data
German PIAAC Main Study
PIAAC Scientific Use File (SUF) – since 2014
PIAAC SUF & Regional File – since 2016
PIAAC SUF & Microm File – since 2017
PIAAC-Supplement Studies
PIAAC Prime Age – since 2015
PIAAC Competencies in Later Life (CiLL) – since 2016
PIAAC-Longitudinal
PIAAC-L SUF (3 waves) – since 2017
PIAAC International
Cyprus Public Use File (PUF) – since 2014
PIAAC Log Files (PUF) – since 2017
PIAAC Pilot Studies on Non-Cognitive Skills (SUF) – since 2018
PIAAC previous study: International Adult Literacy Survey (IALS)
IALS Germany (SUF) – since 2020
Contact
Dr. Débora B. Maehler
GESIS – Leibniz-Institute for the Social Sciences
E-Mail: fdz-piaac@gesis.org
Additional Links