Research Data Centre for Higher Education Research and Science Studies (FDZ-DZHW)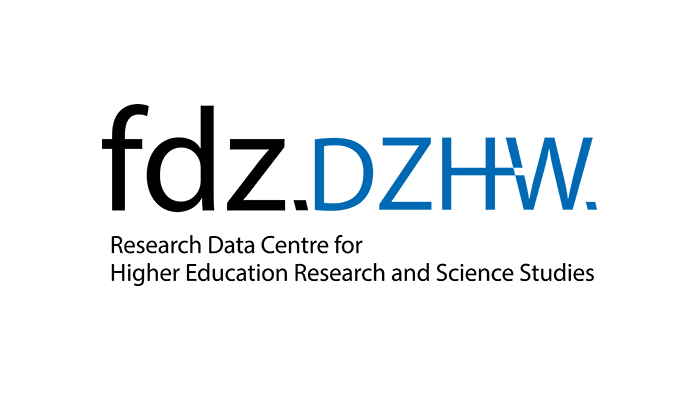 The Research Data Centre for Higher Education and Science Research (FDZ-DZHW) at the German Centre for Higher Education and Science Research (DZHW) in Hannover provides the scientific community with quantitative and qualitative research data from the field of higher education and science research for research and teaching purposes.
Status: Accredited
External Data Ingest: Yes
About the Data Centre
The data stock of the RDC is fed by the current surveys of the larger study series of the institute (Panel Study of School Leavers, Social Survey, Graduate Panel, Science Survey), which are included in the RDC as standard. In addition, inventory data of the DZHW and its predecessor organizations are continuously processed, documented and incorporated into the data stock by the RDC. Furthermore, FDZ-DZHW incorporates DZHW-external data of the research field.
Due to the long time series, the panel and cross-sectional data (which are processed and published step by step) have a high analysis potential. They are suitable for addressing research questions in the research field and also in related research fields, such as school or labor market research.
The data sets are made available as Scientific Use Files (SUF) in different variants with different degrees of anonymization and correspondingly different levels of analysis potential via three modes of access (download, remote desktop, on-site). For teaching purposes, absolutely anonymized Campus Use Files (CUF) are offered via download.
The FDZ-DZHW offers a search portal to the data stock (https://metadata.fdz.dzhw.eu), which can be used to search for information on studies, surveys, instruments, questions, datasets, variables, and publications. On the basis of univariate frequency distributions, a first impression of the data is already given here.
Data available (as of March 2021)
Personal data: Panel Study of School Leavers (cohorts 2008, 2012, 2015), Graduate Panel (cohorts 1989, 1993, 1997, 2001, 2005, 2009, 2013), Social Survey (17th, 18th, 19th, 20th, 21st, pooled data set of 17th to 21st), PhD Panel (cohort 2014), National Academics Panel Study (Nacaps) (cohort 2018), Scientists Survey (2016), EUROGRADUATE Pilot Survey (2018).
Contact
German Centre for Higher Education Research and Science Studies (DZHW)
Research Data Centre
Lange Laube 12
30159 Hannover
e-mail: userservice@dzhw.eu
Phone: +49 511 450670-801
Additional Links