Research Data Center (FDZ) of the Institute for Educational Quality Improvement (IQB)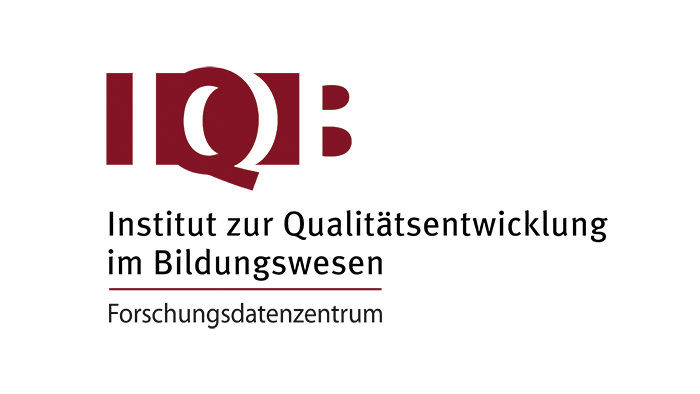 The Research Data Center at the Institute for Quality Development in Education (FDZ at the IQB) archives and documents data sets and accompanying materials from quantitative empirical educational research. Its main task is to provide data sets of German samples from national and international school performance studies for cross-national educational monitoring for re- and secondary analyses. The FDZ at the IQB is part of the Center for International Comparative Education Studies (ZIB), registered with re3data.org and certified with the CoreTrustSeal for trustworthy repositories.
Thematic Focus: Education, Family, Children & Youth
Data type focus: Quantitative
Status: Accredited
External Data Ingest: Yes
Network affiliation: Verbund Forschungsdaten Bildung
RDM Consultation: Yes
Data Offer
The data offered by the FDZ at IQB covers a wide range of content:
School assessment studies on educational monitoring
Studies on specific aspects of skill acquisition (e.g., language acquisition)
Studies on teacher education and training
Studies on students with special educational needs
Studies on early childhood education
Studies on vocational education
For a constantly updated overview of the data available, please visit this website.
Services
In addition to processing and providing study data and supporting materials, the FDZ at IQB offers regular workshops, a quarterly newsletter, individual consultations, and workshops on data sharing and Open Science.
The Collection Policy of the FDZ at the IQB can be found here.
Data Access Mode
The scientific use files, provided free of charge, are accessible via download and remote access. The prerequisite is the conclusion of a data use agreement.
Contact
Research Data Centre at the Institute for Educational Quality Improvement
Hannoversche Str. 19
10115 Berlin
Postal address:
Humboldt-Universität zu Berlin
Institut zur Qualitätsentwicklung im Bildungswesen
Forschungsdatenzentrum
Unter den Linden 6
10099 Berlin
Phone: +49 30 2093-46552
E-mail:  fdz@iqb.hu-berlin.de