Research Data Centre Ruhr at the RWI – Leibniz-Institut für Wirtschaftsforschung (Ruhr at the RWI)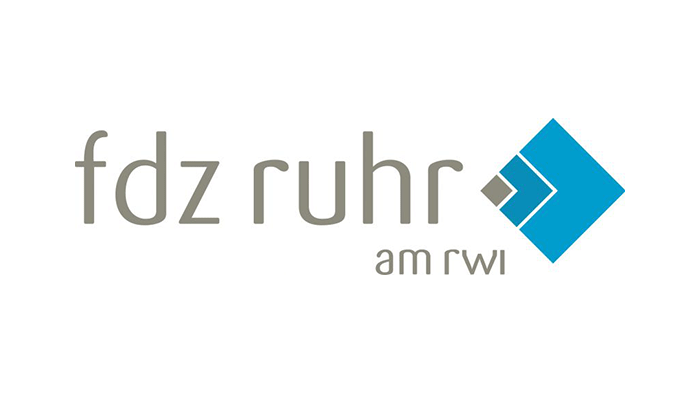 The FDZ Ruhr at RWI combines competences in research and data service and shares them with internal and external scientists. The profile of the FDZ Ruhr is defined by the provision of and research with small-scale data. The FDZ Ruhr is the interface between internal and external data producers and data users as well as the competence areas and research groups of RWI.
Thematic Focus: Work, Occupation & Labor Market, Migration, Spatial Information, Economy & Finances
Data type focus: Quantitative
Status: Accredited
External Data Ingest: Restricted
RDM Consultation: No
Data Offer
The Ruhr Research Data Center at RWI (FDZ Ruhr) focuses on small-scale data with its "RWI-GEO" datasets. The datasets provided here include in particular information at the level of 1x1km² grids for Germany. In addition to small-scale regional data, the FDZ Ruhr dataset also includes individual and household data. The data are mostly available as factually anonymized data in the form of scientific-use files. Some data sets are also available as campus or public use files.
RWI-GEO-GRID: Socio-economic information at the level of 1×1 km² grids as a panel data since 2005.
RWI-GEO-RED: Supply data of real estate advertisements of the online platform ImmobilienScout24. The dataset contains geo-referenced information on the advertised objects for the areas "apartment" and "house" as well as "purchase" and "rent".
RWI-GEO-REDX: Price indices based on information from RWI-GEO-RED on annual price development at the level of municipal associations, counties and labor market regions.
RWI-GRECS, GREEN-SÖP: Panel surveys on energy consumption and adaptation behavior to climate change and environmental and energy policy measures of private households in Germany.
SVR INTEGRATION BAROMETER: Representative population surveys among people with and without a migration background in Germany.
Services
As part of its service activities, the FDZ Ruhr georeferences data or creates conversion routines that standardize different territorial statuses. In addition, the FDZ Ruhr's main service activities include providing access, advising (potential) users and documenting the data sets.
Data Access Mode
All data sets are anonymized as needed and, if possible, made available as Scientific Use Files for direct processing at the researchers' institution. In individual cases, weakly anonymized data can be analyzed in the data security room in Essen. Individual data sets are also usable as Campus File or Public Use File of. Data is shared via cloud system. The employees advise (potential) users on the selection and use of the data sets.
Contact
RWI – Leibniz Institute for Economic Research
Forschungsdatenzentrum
Hohenzollernstr. 1-3
45128 Essen
Germany
E-Mail: fdz@rwi-essen.de