ZEW Research Data Centre (ZEW-FDZ)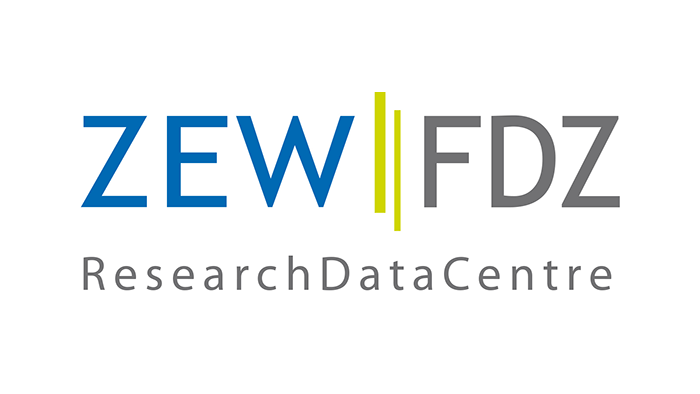 The ZEW Research Data Centre provides external researchers with access to research data from the Leibniz Centre for European Economic Research (ZEW). The research data offered at the ZEW Research Data Centre are primarily individual data from ZEW business surveys - including data from the "Mannheim Innovation Panel"(MIP), the "IAB/ZEW Start-up Panel" and the "ZEW ICT Survey". Furthermore, the data of the ZEW expert survey "ZEW Financial Market Test" can be used.
Thematic Focus: Economy & Finances
Data type focus: Quantitative
Status: Accredited
External Data Ingest: No
RDM Consultation: No
Data Offer
Regularly Updated Firm Data / Surveys
Mannheim Innovationpanel (MIP)
IAB/ZEW Start-up Panel
ZEW ICT Survey
Mannheim Webpanel
Surveys to Specific Topics
Economic Survey of the Information Sector
Generation Chance in Medium-sized Businesses
ZEW Spin-off Survey Germany and Austria
Expert Surveys
ZEW Financial Market Test
Transport Market Barometer
Climate Negotiations Equity
Individual Surveys
ECO-CARS
SECO@home
ZEW Transition Panel Secondary School University
Services
Documentations and lists of variables are provided in German and English for the individual data sets offered at the ZEW-RDC.
Data Access Mode
The data of some ZEW surveys are made available to external researchers in a de facto anonymised form as scientific use files. In addition to the use of scientific use files, external researchers can apply for the use of formally anonymised ZEW data with which they are allowed to work in the ZEW's RDC rooms. Formally anonymised means that the data sets contain neither names nor addresses, but otherwise all the original details of the respondents. The formally anonymised data is stored on a stand-alone computer without a network connection, from which no data can be downloaded. Since June 2023, ZEW has also provided a secure remote access connection for a selection of certain ZEW research data via the University of Mannheim's access to the bwCloud. For the Mannheim Innovation Panel (MIP), absolutely anonymised education use files were also created for use in teaching.
Contact
Zentrum für Europäische Wirtschaftsforschung (ZEW) GmbH
L 7, 1
68161 Mannheim
Contact person
Dr. Sandra Gottschalk
E-Mail: gottschalk@zew.de
Phone: +49 (0)621 1235-267
Fax: +49 (0)621 1235-170